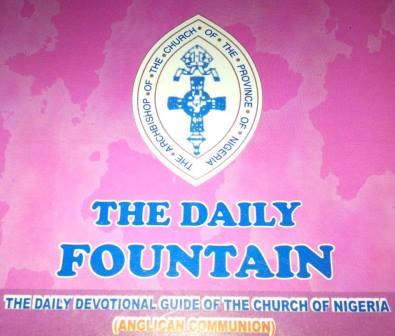 The Daily Fountain Daily Devotional of the Church Of Nigeria (Anglican Communion) 26 October 2020 – The Wicked Is Condemned To Hell
Click HERE to Read Previous MESSAGES
Topic: The Wicked Is Condemned To Hell
Read: Psalm 9 (NKJV)
To the Chief Musician. To [the tune of] "Death of the Son." A Psalm of David. I will praise [You,] O LORD, with my whole heart; I will tell of all Your marvelous works.
I will be glad and rejoice in You; I will sing praise to Your name, O Most High.
When my enemies turn back, They shall fall and perish at Your presence.
For You have maintained my right and my cause; You sat on the throne judging in righteousness.
You have rebuked the nations, You have destroyed the wicked; You have blotted out their name forever and ever.
O enemy, destructions are finished forever! And you have destroyed cities; Even their memory has perished.
But the LORD shall endure forever; He has prepared His throne for judgment.
He shall judge the world in righteousness, And He shall administer judgment for the peoples in uprightness.
The LORD also will be a refuge for the oppressed, A refuge in times of trouble.
And those who know Your name will put their trust in You; For You, LORD, have not forsaken those who seek You.
Sing praises to the LORD, who dwells in Zion! Declare His deeds among the people.
When He avenges blood, He remembers them; He does not forget the cry of the humble.
Have mercy on me, O LORD! Consider my trouble from those who hate me, You who lift me up from the gates of death,
That I may tell of all Your praise In the gates of the daughter of Zion. I will rejoice in Your salvation.
The nations have sunk down in the pit [which] they made; In the net which they hid, their own foot is caught.
The LORD is known [by] the judgment He executes; The wicked is snared in the work of his own hands. Meditation. Selah
The wicked shall be turned into hell, [And] all the nations that forget God.
For the needy shall not always be forgotten; The expectation of the poor shall [not] perish forever.
Arise, O LORD, Do not let man prevail; Let the nations be judged in Your sight.
Put them in fear, O LORD, [That] the nations may know themselves [to be but] men. Selah
THE MESSAGE:
In our reading today, we can see the horrors that befall the wicked – stumbling and eradication, destruction, deletion of names forever, vanishing in everlasting ruins, snared in their own works with an end (Psalm 9:3-6, Psalm 9:17). There is no peace for the wicked; he is like a troubled sea.
Brethren, hell is real; it is not a myth but a concrete reality. Hell is a place of eternal torment and punishment for the wicked. It is a place of wrath, fury, distress, furnace of fire, wailing and gnashing of the teeth (Matthew 13:50). Your sins will take you to hell if you refuse to repent: "…Depart from me, you cursed into the eternal fire prepared for the devils and his angels" (Matthew 25:41).
Never join the jokers who say hell is filled up. Listen, hell is never full or satisfied. Hell never says, "it's enough." (Proverbs 27:20; 30:10). Instead, hell has enlarged its appetite and opened its mouth beyond measure (Isaiah 5:14). There is nothing like purgatory. This is the truth; God's word is the standard and cannot be broken. Hell will accommodate all who want to be there. Only Jesus can save you from hell now you are living; no repentance in the grave! Escape for your dear life now!
PRAYER: Lord Jesus, save me now and deliver me from the torments in hell in Jesus name. Amen.